Click here to view this email in your browser.
February 2022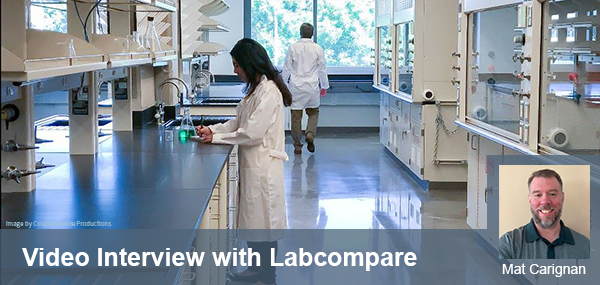 Converting commercial spaces into research labs with local vacuum systems.
Mat Carignan, BrandTech® Scientific's Project Manager, sat down with Labcompare to discuss the benefits of local vacuum systems and how they compare to other vacuum options in the lab. Additionally, Mat sheds light on the effects of the COVID-19 pandemic, including the retrofitting of commercial spaces into research laboratories as scientists delved into SARS-CoV-2.
WEBINAR
A Versatile Tool for an Efficient Lab

Take a few moments to watch the recorded webinar on the NEW BRAND® accu-jet® S pipette controller. Brought to you by the experienced BrandTech® Scientific staff, it includes demonstrations, user experiences, and highlights the benefits of the new pipette controller.
Lab Check In

A microbiologist for a formulation design and manufacturing company recently contacted our technical support team to help resolve an issue with their RZ 6 vacuum pump. The solution was simple, they were using a pump that was too powerful for their application. Our team recommended the ME 4C NT, an oil-free diaphragm pump that requires less maintenance and is the right size for their filtration application. Moral of the story is to contact our experts to find the right pump for your application!
Brain Work

Take a break and test your puzzle skills with this fun lab centric Sudoku.
Jason Imamoto has joined the BrandTech® team as the Inside Sales Representative for the Western Region. Jason comes to us with a BS in Biochemistry & Cell/Molecular Biology from Humboldt State University in Northern California. He is also close to completing his Ph.D. in Biochemistry from the University of the Sciences in Philadelphia, PA. He most recently worked as a Lab Instructor, teaching General Chemistry and was a Recitation Leader in Biochemistry, Molecular Biology & Genetics at the University of the Sciences. Jason, his wife, and 2-year-old son, Jasper, recently relocated to California from Pennsylvania. Reach out to Jason at jimamoto@brandtech.com.
Congratulations to Mary Lisa Sassano on her promotion to Senior Inside Sales Representative for the Central Region. Over the 5+ years with BrandTech®, Mary Lisa has demonstrated a knack for building relationships and is well known for her commitment to "making in happen". Mary Lisa can be reached at msassano@brandtech.com.
Upcoming Tradeshows
Stop by the BrandTech® booth at these upcoming live events
Tradeline College & University Spring - Boston, MA - 4/4 - 4/5
The Tradeline College & University conference is one of our most anticipated events. It's mainly focused on developments in education as well as innovation for pushing forward future projects. Stop by booth #3 to chat with vacuum specialists, Mat Carignan and John Kalinowski, about our adaptable and flexible VACUU·LAN® local vacuum systems.
ILDA- Sarasota, FL - 4/24 - 4/26
BrandTech® will be heading down to Sarasota, FL for the Independent Laboratory Distributors Association Spring Meeting. Christian Petrilli and Nancy Nardone will be showcasing the new accu-jet® S pipette controller.
AEC Daily Virtual Webinar Schedule
AEC Daily sponsors our AIA approved courses for continuing education credit to licensed architects. These webinars are 1 hour and you will learn how adaptable and sustainable modular local vacuum systems are.
Courses available:
VAC 103: Lab Vacuum Options for Science Labs: Maximizing Building

Performances & Sustainability

VAC 202: Modular Lab Vacuum for Building-Wide Installation
VAC 203: Modular Lab Vacuum for Multi-Use Science Facilities
Webinar Dates
March 10, 2022 - VAC 203
April 7, 2022 - VAC 103
May 11, 2022 - VAC 202
September 15, 2022 - VAC 103
October 13, 2022 - VAC 202
November 2, 2022 - VAC 203